Activity Screen Walkthrough
Learn how to use Wordly's Activity Screen
The Activity screen allows you to track the date, duration, minute use, and all other session activity. You can also:
Track how many sessions you've attended.
Track how much time you've used.
Track which sessions are currently active.
Download transcripts of sessions.
Navigating to the Activity screen
To access the Activity screen from anywhere within Wordly:
Move the mouse cursor to the left side of the screen.

Click on Activity ( ) from the expanding menu, as seen here: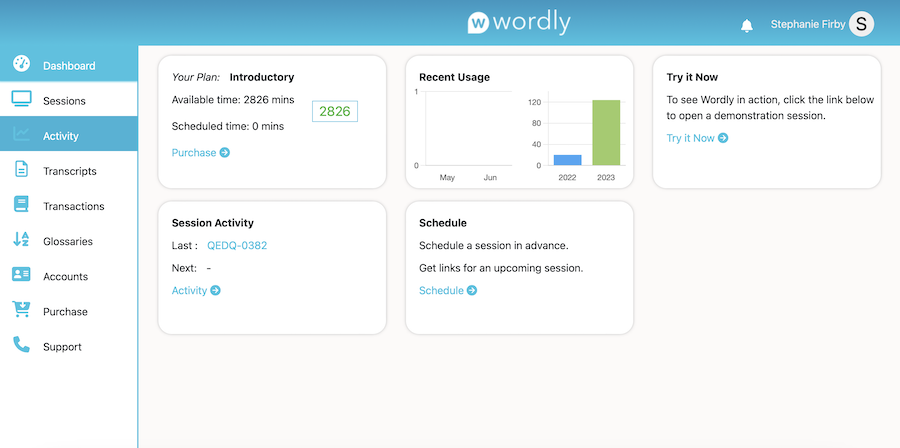 Overview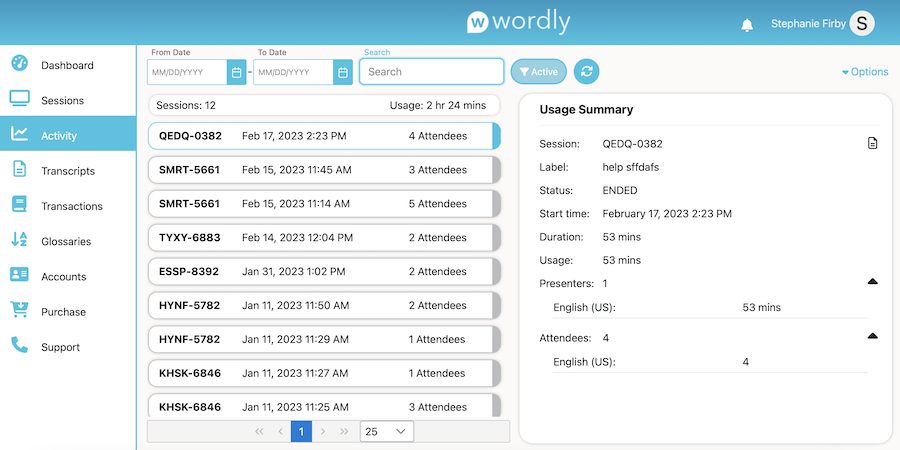 Sessions are listed on the left side of the screen by Session ID and Date only.

Click on a session to open up the Usage Summary for that session on the right side of the screen.

Click the Transcript icon ( ) within the Session details page to be taken to the transcript of that session. See the Transcripts Page Overview Article for more information about transcripts.

Click the Options dropdown in the top right corner of the screen to download an activity report:

Activity reports are Microsoft Excel spreadsheets (.CSV files) that detail everything that happened during a session.

Activity report notes

Activity is reported from the time a session starts to the time Wordly receives a command to "end" the session.

Occasionally, the length of a session reported on the Activity Screen won't match the time reported on the Transaction screen (indicated as Used Minutes).
---