Accessing Transcripts
Learn how to find and download session transcripts.
Transcripts are written records of all the dialogue spoken during a Wordly session. Transcripts are available to users that select the "Private Transcripts'' option when adding a session.
Some points about transcripts:
Transcripts are only accessible for the account holder that set up a session, and are created whenever their connection to a session is ended (rather than the session itself). If you create a session and join it multiple times, each time will have its own transcript.

Transcripts don't contain translated dialogue. They are word-for-word records of the spoken dialogue only. If the presenter spoke in English, the transcript will also be in English.

For sessions with multiple languages, the transcript will reflect the source languages as they were transcribed.

At the moment transcripts can't be shared within Wordly. If you want to share a transcript, you must download it first.
---
The Transcripts page
When you first log in to Wordly, you'll automatically start on the Dashboard: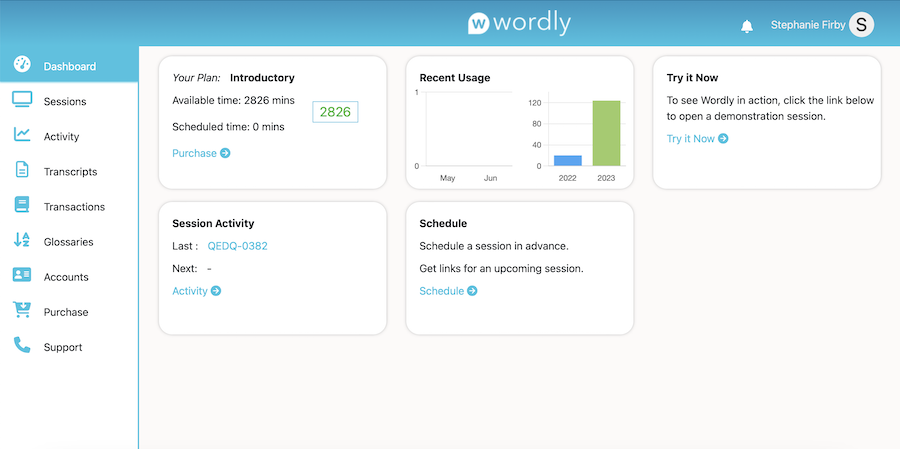 To access the Transcripts page, move the mouse to the left side of the screen and click on Transcripts (

), as seen here: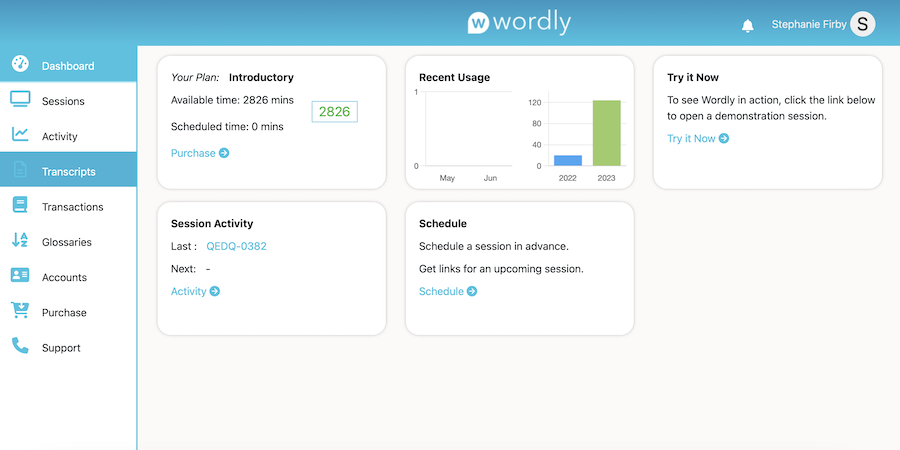 Once you're on the Transcripts page, select a session from the list on the left side of the screen. An accompanying Transcript will appear on the right, as seen here: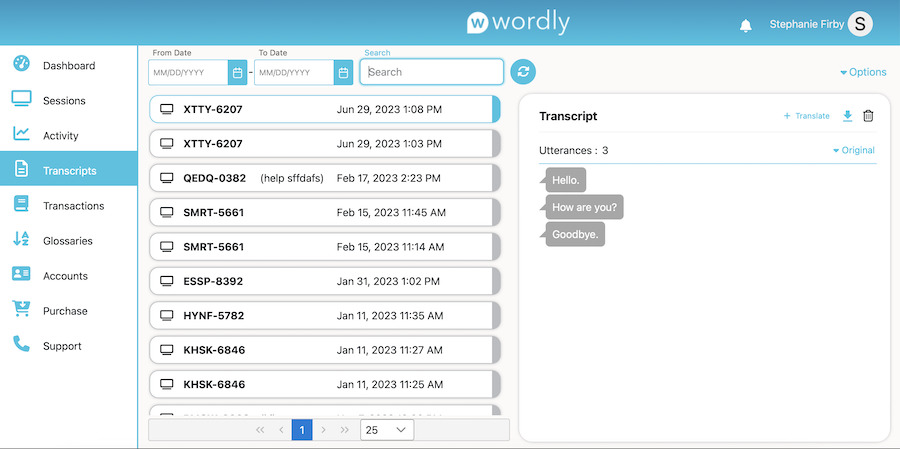 You can search for a specific session or a range of sessions using the filters on the left side of this page.
Transcripts have two functions: Deleting, and Downloading.
Deleting transcripts
To delete a transcript, click the trashcan button (

) in the top right corner of the transcript.
Downloading transcripts
Transcripts can be downloaded individually in three different formats. To choose a format, move the mouse cursor to hover over the download button (

).
Click the file button ( ) to download a transcript as a plaintext file with timestamps.

Click the plaintext button ( ) to download a transcript as a simple plaintext file.

Click the camera button ( ) to download a transcript as a .VTT file (typically used by Youtube, Vimeo and others for subtitles).
Note
.VTT files are editable text files and can be opened with any text editor, including Windows Notepad and Apple TextEdit.
Downloading multiple transcripts
To download more than one transcript at a time you first need to search through your sessions using the filters on the left-half of the screen.
After you've located the sessions you want, click the Options dropdown (

) in the top-right corner of the page, and choose the format of the transcripts to be downloaded: